HT Series – Direct Vent
The HT Series provides maximum heat transfer to the ultimate in economical operations with a unique three-pass construction.
Its large water content ensures excellent tankless coil performance to meet the hot water demands of today's lifestyle.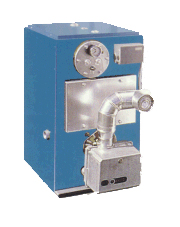 EFFICIENCY – A wet-base design, a horizontal tube, and a three-pass heat exchanger make this one of the most efficient boiler designs available.

HIGH WATER VOLUME AND STANDARD 5 GALLON DOMESTIC WATER COIL – An amazing 30 gallons of water in the wet section of the boiler, combined with the 5 GPM coil provides the customer with abundant domestic hot water.

FORCED DRAFT BURNER – eliminates chimney draft problems.

QUIET OPERATION – Due to the horizontal tube and wet-base, the HT is remarkably quiet. The "Uni-flow" path of combustion gases allows for smoother, quieter combustion than firebox, wet-leg designed boilers.

EASY CLEANING – the heat exchanger is easily accessible for cleaning. Available for sidewall direct vent applications. No power ventor required.

RATING – The 86.2% AFUE rating is among the highest Department of Energy (DOE) ratings.

ONE-PIECE BOILER CONSTRUCTION – ensures years of trouble-free service. There are no push nipples or "O" rings to leak.
MULTIPLE FIRING RATES – Each boiler is listed at three (3) different firing rates. All three nozzles are included with each unit. This allows for more accurate sizing to the heat loss, yet keeps the cost of the boiler lower. The firing rates range from .90 to 1.50 GPH within two (2) boiler shells. This feature reduces inventory costs with one model covering several firing rates.

A 5-GPM TANKLESS COIL – with a 30-gallon boiler water content assures abundant hot water.

WET BASE -THREE PASS DESIGN – Known in the industry as the most efficient and durable design. Water completely surrounds the combustion chamber, plus two sets of tubes to further transfer heat before venting from the rear of the boiler. The "uni-flow" path of the combustion gases allow for quieter combustion.

FORCED DRAFT BURNER – The forced draft burner eliminates chimney draft problems. The HT-Series is designed to work in spite of poor draft conditions. It also seals products of combustion from the living area, reducing potential "puff-back" problems.

ASME CONSTRUCTED  – Each boiler is constructed and hydrostatically tested in accordance with ASME Boiler Code.
| | |
| --- | --- |
| ASME Code Boiler | Convenience Box with Switch & Outlet |
| Flush Jacket | 007 or Equivalent Circulator (not mounted) |
| Ceramic Fiber Combustion Chamber | Brass Boiler Drain |
| Altitude, Temperature & Pressure Gauge | Built-in "Air Scoop" |
| ASME Relief Valve | Factory Assembled, Wired & Packaged |
| 5 GPM Tankless Heater | National Board Stamped |
| GeniSys Control (Beckett) | Aquasmart Control or Hydrolevel Control |
Specifications
Advanced three pass design traps more heat during longer, slower passage of combustion gases through the boiler heat exchanger. This design transfers the heat to your home instead of out the chimney. Note: Circulator not mounted for shipping.
All appliance designs are forced draft pressure fired for optimum performance. They are available with either Beckett, Carlin, or Riello oil burners
Blended Sizes
HT 90/100/110 EE
HT 125 EE
MODELS
HT 90 EE
HT 100 EE
HT 110 EE
HT 125 EE
Input
126,000
140,000
154,000
175,000
Heat Capacity
109,000
121,000
132,000
151,000
Gross Output
N/A
N/A
N/A
N/A
Net Out
94,000
105,000
115,000
131,000
Firing Rate
0.90
1.00
1.10
1.25
Tubes
10
10
10
16
Baffles
Fully Baffled
Fully Baffled
Fully Baffled
Fully Baffled
Water Content - Gallons
30
30
30
28
Supply
1¼"
1¼"
1¼"
1¼"
Returns (2)
1¼"
1¼"
1¼"
1¼"
Coil Capacity
5 GPM
5 GPM
5 GPM
5 GPM
AFUE - DOE Efficiency
86.2
86.1
86.0
86.2
Combustion Efficiency
N/A
N/A
N/A
N/A
Overall Efficiency
N/A
N/A
N/A
N/A
Weight
458
458
458
485
Burner Model
Becket AFG, Becket AFII, Becket NX, Carlin EZ-1, Riello BF5
Becket AFG, Becket AFII, Becket NX, Carlin EZ-1, Riello BF5
Becket AFG, Becket AFII, Becket NX, Carlin EZ-1, Riello BF5
Becket AFG, Becket AFII Carlin EZ-1, Riello BF5
* Model 90/100/110 and 125 available in choice of chimney or direct vent with Beckett AFII, Beckett NX, Carlin EZ-1 and Riello BF5 Burners only.
Vent Kits
THERMO-VENT 175 Vent Kits
One per boiler required.
One wall opening required.
Part No.
Shipping Weight (pounds)
TV-175 Combination Vent Kit - 10ft
281072
24
TV-175 Combination Vent Kit - 15ft
281082
30
TV-175 Combination Vent Kit - 20ft
281093
36
* Note: Vent Hood Packaged Separately from Tubing. (2-cartons) 4" tubing shipped inside of 5" tubing.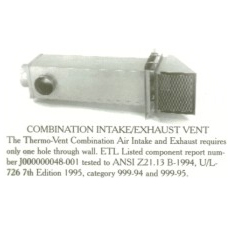 DIRECT VENTING KITS – 10ft., 15ft., 20ft. Includes:
1 – Sized Length of 5″ Stainless Steel Flexible Vent Tubing
1 – Stainless Steel Combination Air Intake Exhaust Vent Hood
1 – 5″ Stainless Steel Flex Tubing Connector
1 – 4″ Tee w/Vacuum Relief
1 – Sized Length of 4″ Aluminum Flexible Intake Tubing
Attaching Screws, Silicon Sealer, Instruction Sheet
Note: Connector Tubing standard NFPA 9″ Clearance to Combustible.