TDX Series – Efficient
The TDX Series achieves its high efficiencies by re-circulating the flue gases through the boiler three times.  Most other residential boilers are designed for only one or two passes through the boilers.  With our three-pass design, the flue gases do not immediately exit through the chimney, but remain in the boiler longer for more efficient operation.
The TDX Series incorporates a specially designed water coil, which provides an abundant and equally efficient supply of domestic hot water.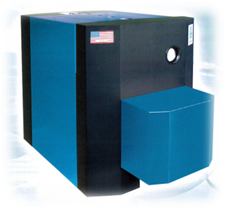 FIRING RATE 0.90 to 1.25 GPH – Allows the installer to size the boiler more closely to the home heating needs for greater efficiency. The lowest firing rate, 0.90-96,000 BTU, is necessary for many well insulated homes where the heat loss is minimal.

PUMP PRESSURE – The TDX-Series operates at 140 PSI pump pressure for better fuel atomization, thereby having the ability to tolerate fuel oil with heavy ends.

IGNITION SYSTEM – The TDX-Series is standard with a state-of-the-art, solid state ignition system, making it more tolerant to low voltage or voltage fluctuations.

ELECTRONIC DELAY with Solenoid Valve "clean-cut" Fuel Pump

WATER CONTENT – 29.3 gallons
EFFICIENCIES UP TO 90.2% AFUE

BUILT-IN "AIR SCOOP" – purges air from the system providing a quiet, trouble free hot water heating system without the use of external devices.

EXTENDED FLANGE COIL – is away from the boiler for easy accessibility. The use of ribbed neck carriage bolts eliminates the problems encountered when a weld stud is broken during servicing. The large coil plate allows for a greater gasket sealing area.

EASY CLEANING – and maintenance accessibility to combustion areas and the open tubes make it easy for the service technician to thoroughly clean the boiler. No tight, pin-type passage ways with "hidden nooks and crannies", making a thorough cleaning impossible. A well-maintained boiler continues to perform at higher efficiency and is less likely to develop service problems.
Standard Features
EXTENDED COIL FLANGE – Provides dependable operation while assuring easy servicing.

COPPER DOMESTIC HOT WATER COIL – Provides the hot water you need when it is needed. The cost of a separate domestic hot water system is eliminated.

ASME CONSTRUCTION – Designed, constructed and hydrostatically tested in accordance with the American Society of Mechanical Engineers Boiler Code Section IV.
| | |
| --- | --- |
| ASME Code Boiler | Striking Two-Tone Cabinetry |
| Altitude, Temperature & Pressure Gauge | ASME Relief Valve |
| Built-In "Air Scoop" | Factory Assembled, Wired & Packaged |
| National Board Stamped | Reversible Full Swing Door |
| No Combustion Chamber Design | Burner Quick Disconnect |
| Aquasmart Control or Hydrolevel Control | |
Specifications
All appliance designs are forced draft pressure fired for optimum performance. They are available with either Beckett, Carlin, or Riello oil burner.
| MODELS | TDX 90WC | TDX 100WC | TDX 110WC | TDX 125WC |
| --- | --- | --- | --- | --- |
| Firing Rate GPH | 0.90 | 1.00 | 1.10 | 1.25 |
| Input BTU/HR | 126,000 | 140,000 | 154,000 | 175,000 |
| DOE Capacity BTU/HR | 110,000 | 121,000 | 132,000 | 148,000 |
| Net Output BTU/HR | 95,000 | 105,000 | 115,000 | 129,000 |
| DOE Efficiency | 87.0% | 86.5% | 86.0% | 85.5% |
| Boiler Tubes | 8 | 8 | 8 | 8 |
| Baffles | 8 | 8 | 8 | 8 |
| Water Content - Gallons | 28 | 28 | 28 | 28 |
| Supply | 1 ¼" | 1 ¼" | 1 ¼" | 1 ¼" |
| Return | 1 ¼" | 1 ¼" | 1 ¼" | 1 ¼" |
| Coil Capacity | 5 gal | 5 gal | 5 gal | 5 gal |
| Shipping Weight Lbs. | 460 | 460 | 460 | 460 |