Why Low Mass?
There is a cost (called standby loss) associated with boilers during the off cycles. Reducing standby loss means increasing fuel efficiency. The low-mass concept virtually eliminates standby loss, providing nearly instant heating with less fuel combustion. Thermo-Dynamics has combined this low-mass concept with the ultra-modern technology of high-efficiency, flame, retention burners that produce a cleaner, more efficient flame. This system ensures maximum efficiency from every fuel dollar.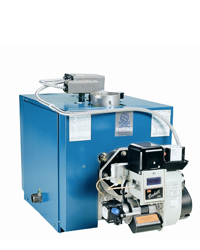 WATER VOLUME- The low, 5-1/2 gallon water content provides heat and hot water delivery within minutes of start up. The low mass concept reduces standby losses associated with boilers during off cycles and provides nearly instant heating with less fuel consumption.

EFFICIENCY – 86.0% TO 86.4% AFUE- The high efficiency obtained with the LM boiler are due to the design to the heat exchanger, a two pass, wet base, Scotch Marine design.

MULTIPLE FIRING RATES – .75 TO .85 – One boiler can be fired at two different rates, offering versatility and keeping costs low.  Each unit is supplied with nozzles and labels for both rates.

FORCED DRAFT- Forced draft chimney design performs with marginal chimney draft, assuring proper combustion in spite of poor chimneys.

COMPACT SIZE- Standing 19-3/4 inches high, 19 inches wide, and 36 inches long, this compact boiler not only saves space but can easily be installed in areas not approved for other boilers. The LM series is approved for both closet and alcove installation on combustible flooring.

ASME CONSTRUCTED – Each boiler is constructed and hydrostatically tested in accordance with ASME Boiler Code.
LARGER CAPACITIES- The LM 100/125 boiler is available for larger capacities. It features blended firing rates of 1.00, 1.10 and 1.25 GPH.

DESIGN – A wet-base design, a horizontal tube, and a two-pass heat exchanger makes this one of the best-designed, best-heating boilers on the market.

Swing Out burner door

The low water content provides heat or hot water delivery within minutes of start-up.

COMPATIBILITY – with indirect storage tanks provides enough hot water to meet the comfort requirement of virtually any home.

ONE-PIECE BOILER – construction ensures years of trouble-free service. There are no push nipples or "O" rings to leak.

COMPACT DESIGN – saves space, yet it's capable of three firing rates.

We reduce servicing expenses by making the heat exchanger easily accessible from either end.

AFUE RATING – The 86.0% to 86.4% AFUE rating is among the highest from today's boilers.

As with all of our boilers, the low mass boiler is manufactured in the USA with American-made steel,  constructed to ASME code requirements passing rigorous third-party inspections and hydrostatic tests and is backed by a lifetime limited warranty.
Standard Features
Built in "Air Scoop" purges air from the system providing a quiet, trouble free hot water heating system without the use of external devices.

Easy cleaning and maintenance accessibility to combustion areas and the open tubes make it easy for the service technician to thoroughly clean the boiler. The LM-Series can be cleaned from either end by simply removing eight brass nuts. The burner and clean-out door is a hinged, swing-away door. A well-maintained boiler continues to perform at higher efficiency and is less likely to develop service problems.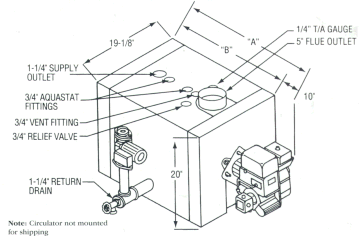 ASME Code Boiler with Swing Out Door
Flush Jacket
Ceramic Fiber Combustion Chamber
Altitude, Temperature & Pressure Gauge
ASME Relief Valve
Built-in "Air Scoop"
GeniSys Control (Beckett)
Aquasmart Control or Hydrolevel Control
National Board Stamped
Burner "Quick Disconnect"
007 or Equivalent Circulator (not mounted)
Brass Boiler Drain
Factory Assembled, Wired & Packaged
Oil Vent Damper
Optional Equipment
DV Model - Direct Vent
Boiler Stand
Bronze Circulator
Thermostatic Bypass Valve
Specifications
All appliance designs are forced draft pressure fired for optimum performance. They are available with either Beckett, Carlin, or Riello oil burner.
Blended Sizes
LM/LMD 75/85
LM/LMD 100/110/125
Model Designation
LM/LMD 75
LM/LMD 85
LM/LMD 100
LM/LMD 110
LM/LMD 125
Input BTU/HR
105,000
119,000
140,000
154,000
175,000
Heating Capacity BTU/HR
91,000
102,000
121,000
133,000
151,000
Net Rating BTU/HR
79,000
89,000
105,000
115,000
131,000
Input #2 Oil GPH
0.75
0.85
1.00
1.10
1.25
Boiler Draft Loss Inches
0 - +1.0
0 - +1.0
0 - +1.0
0 - +1.0
0 - +1.0
Water Content
5.5 GAL
5.5 GAL
8 GAL
8 GAL
8 GAL
Boiler Height w/Control
25"
25"
25"
25"
25"
Jacket Width
19 ⅛"
19 ⅛"
19 ⅛"
19 ⅛"
19 ⅛"
Hydronic Supply Height
20 ½"
20 ½"
20 ½"
20 ½"
20 ½"
Burner Height
9 ⅜"
9 ⅜"
9 ⅜"
9 ⅜"
9 ⅜"
Hydronic Return Height
5"
5"
5"
5"
5"
Flue Outlet Diameter
5"
5"
5"
5"
5"
*A = Jacket Depth
25 ½"
25 ½"
35"
35"
35"
Return Height
5"
5"
5"
5"
5"
Hydronic Supply Size
1 ¼"
1 ¼"
1 ¼"
1 ¼"
1 ¼"
Hydronic Return Size
1 ¼"
1 ¼"
1 ¼"
1 ¼"
1 ¼"
DOE AFUE Rating
86.2%
86.0%
86.4%
86.2%
86.0%
Shipping Weight (lbs)
350#
350#
440#
440#
440#
* For LMD Series add 10lbs to weight