Thermo-Dynamics Side-Wall Direct Venting
There was a time when all you had to do was burn fuel and heat your home. We weren't concerned with efficiency or costs. But, now we are. The technology has improved enormously even in the last 10 years. Thermo-Dynamics has led that enormous improvement with constant improvements to our designs.
Why Our Boilers Are So Much Better
DIRECT VENTING – Thermo-Dynamics pioneered side-wall direct venting.
NEW CONSTRUCTION – it saves the homeowner significant first dollars by eliminating the need of a chimney altogether.
ELECTRIC HEAT CONVERSIONS – the compact design and small footprint allow installations even in closets and alcoves. No need for a separate utility room.
SYSTEM UPGRADE – allows installation of high efficiency boilers in spite of poor chimney draft. All three applications use outside air for combustion which saves you money!
LOW MASS LMD SERIES – This sounds like physics and it is! The low mass of both the boiler and the internal water content means it has fast recovery and less heat loss during off-cycle idle periods. Coupled with an indirect water heater, it provides abundant hot water for hot tubs, multiple bath rooms, and appliances for today's contemporary life styles. Combination Boiler with Domestic Hot Water Built In-
CWL-DV SERIES – This is a compact appliance which is only 29-1/2″ high and listed for "close clearance". It can be installed touching walls on the sides substantially reducing the space needed. Oval tube design means greater heat transfer and efficient use of fuel.
HT-DVL SERIES – A leader in appliances with built in hot water coils, with its 30 gallon water content and its "stingy" triple-pass heat exchanger provides residential heat and hot water. Both units boast AFUE ratings in the mid-80% range according to DOE test standards as published by the Federal Trade Commission.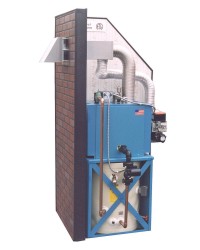 All four appliance designs are forced draft pressure fired for optimum performance. They are available with either Beckett, Carlin, or Riello oil burners
| | |
| --- | --- |
| ASME Code Boiler | Striking Two-Tone Cabinetry |
| Altitude, Temperature & Pressure Gauge | ASME Relief Valve |
| Built-In "Air Scoop" | Factory Assembled, Wired & Packaged |
| National Board Stamped | Reversible Full Swing Door |
| No Combustion Chamber Design | Burner Quick Disconnect |
| Aquasmart Control or Hydrolevel Control | |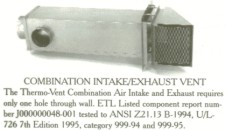 THERMO-VENT 175 Vent Kits
One per boiler required.
One wall opening required.
Part No.
Shipping Weight (pounds)
TV-175 Combination Vent Kit - 10ft
281072
24
TV-175 Combination Vent Kit - 15ft
281082
30
TV-175 Combination Vent Kit - 20ft
281093
36
* Note: Vent Hood Packaged Separately from Tubing. (2-cartons) 4" tubing shipped inside of 5" tubing.
DIRECT VENTING KITS – 10ft., 15ft., 20ft. Includes:
1 – Sized Length of 5″ Stainless Steel Flexible Vent Tubing
1 – Stainless Steel Combination Air Intake Exhaust Vent Hood
1 – 5″ Stainless Steel Flex Tubing Connector
1 – 4″ Tee w/Vacuum Relief
1 – Sized Length of 4″ Aluminum Flexible Intake Tubing
Attaching Screws, Silicon Sealer, Instruction Sheet
Note: Connector Tubing standard NFPA 9″ Clearance to Combustible.